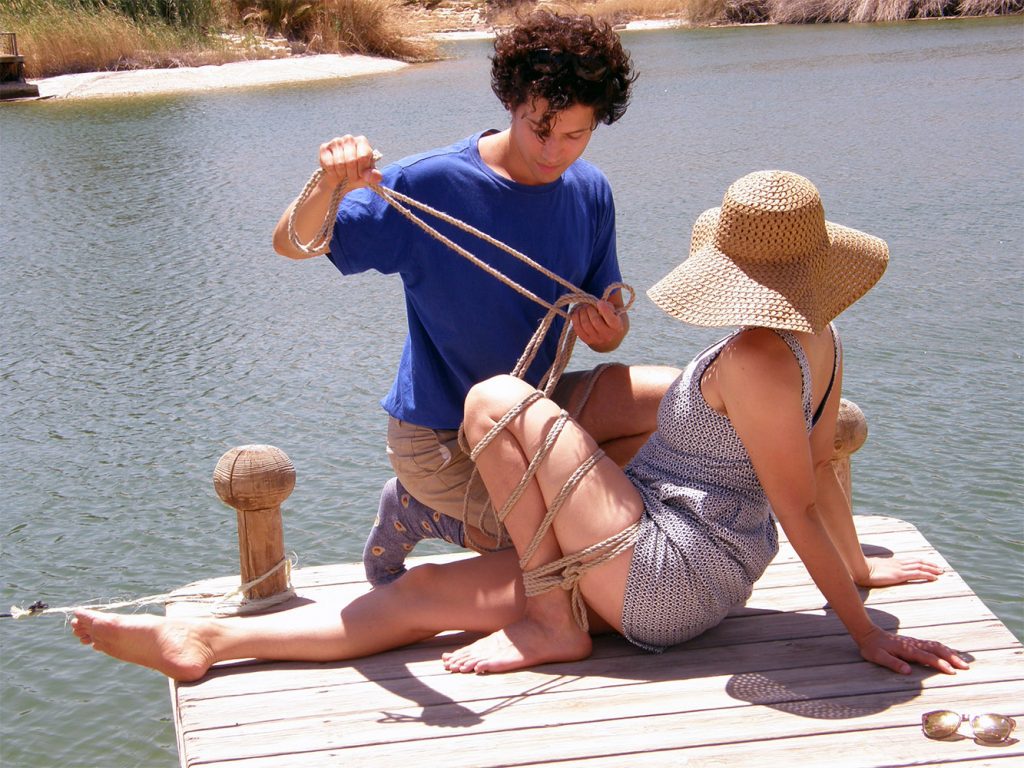 Dear Curious Being,
We invite you to a journey of self discovery in the intimate imaginarium.
The Intimate Imaginarium is a parallel universe, a playground full of magic, curiosity, self-discovery, courage, awareness, eroticism, intimacy and love. In the Intimate Imaginarium beings meet to cultivate their inner fire, to unfold and rediscover themselves.
We meet in a generous, beautiful, historical house at the forest's edge, reserved just for us, reachable in merely 1 hour with public transport from Berlin.
Theres a huge hall offering us space for playing and unfolding, in an intimate group of maximum 30 people.
At the opening circle we as a community will create an atmosphere of safety and trust, which will support us in diving into a world full of authenticity, sensuality and creativity.
We will hold workshops and playspaces for exploring:
 Consent and Boundaries
 Sensual improvisation Theater
 Conscious Kink
 Shibari Rope Play
Through which we can:
  overcome old uncertainties and welcome new ones
refine our body-sense awareness
perceive and express our emotions and needs
perceive, touch and respect our own boundaries as well as those of the other
expand our playing options and relational spaces
discover, develop and express our sexual fantasies
experience our own rhythm of surrender and distancing, opening and closing, and of leading and following.
Arrival: Friday 01.10.2021 between 6-7pm
Departure: Sunday 03.10.2021 afternoon
In a village at the edge of the forest, in a beautiful house reserved just for us, with a large hall with a wooden floor and generous playing spaces and rooms for 2-5 people, in a quiet place close to nature, reachable in just 1 hour from Berlin with public transport. We will send you the exact location as soon as you register.
Dr. Theresa works as a psychotherapist, medical doctor and a researcher. She is inspired by intersubjectivity and embodiment. She cherishes playfulness, for instance in contact improvisation, yin-yoga, shibari-ropeplay and authentic relating.
Dr. Toms research topic shifted gradually from interactions between atoms to interactions between people after he accidentally attended an intimate meeting in 2015, somewhat similar to the Intimate Imaginarium. Since then Tom has been experimenting with ways to meet himself and others in a lively, courageous and loving way, through authentic relating, improvisation theater, dancing, conscious kink & BDSM, shibari rope play and playparties.
Together Theresa & Tom are Daring & Caring. We facillitated events in Berlin, Heidelberg, Stuttgart, Luzern, Jerusalem and Tel Aviv. You can find out more about us on our website – www.daringcaring.com
Serap describes her experience in our workshops (in German):
"ich hatte großen spaß in eurem workshop, tausend dank nochmal.  eure achtsame anleitung und wiederholte gelegenheit zur reflexion nach übungen haben mir jegliche sorgen, die ich vor dem workshop hatte, genommen.
ich habe mich sehr wohl gefühlt und war offen für neue menschen und ihre berührungen. ich konnte immer alles ausdrücken, was ich möchte und nicht möchte, was mir guttut und was nicht.
anfangs war ich sehr aufgeregt, und zwischendurch auch immer mal wieder (vor allem wenn ich der aktive part war bzw. gefesselt habe), habe mich aber auch richtig gut entspannen und genießen können, wenn ich empfangen durfte.
ich denke, dass sich die aufregung mit mehr übung sicher legen wird. ich habe auch viel über mich und meinen körper lernen können, vertrauen und freude gespürt, wenn sich menschen durch mein tun
entspannen konnten und mit mir gespielt haben."
The first ten to register get the reduced early bird price.
Sliding scale: You decide how much you would like to give us within the scale.
The Prices in Euros:
Double room: early bird 195-270, normal 220-270
Room for 4: early bird 160-230 , normal 180-230
Room for 5: early bird 145-210, normal 160-210
Sleeping bag in the hall: early bird 130-190, 140-190 normal
The ticket includes all workshops and play nights, vegan groceries and delicious snacks, two nights of lodging in the house, preparation of the equipment and organisation.
In case you sleep in one of the rooms, be sure to bring bed and pillow sheets, or 12.5 Euros to borrow some. In case you sleep in the hall, bring a sleeping bag and an inflatable or a yoga mattress with you.
For each meal a few (each time different) volunteers will receive groceries and an easy recipe from us and will cook vegan for the rest of us in an easy, playful way. This allows us to offer the cheap price tickets mentioned above and offers us another opportunity to meet each other in a different context. You can even make a small workshop out of it – if you want inspiration feel free to ask.
You may cancel for a full refund at any time as long as you find a replacement for you which we accept. Alternatively you can cancel for a full refund up to two weeks before the start of the retreat. After that no refund is possible.
Participation only for vaccinated, tested or recovered people. The test should be at most 24 hours old. Alternatively you can also get tested in the venue for 5 euros. If you have covid-related symptoms stay at home.
I'm interested in participating, but...
I worry that I am not experienced enough to participate.
Every experience level is welcome.
I am single or in a relationship.
Every kind of relationship (also single) is welcome.
I worry that the retreat will be too much for me.
This is a really understandable and common thing to worry about, especially for people who have no experience with such events.
In contrary to daily challenges, in which we disassociate ourselves, in this retreat it is explicitly desired to permanently stay in connection with our needs in order to notice when something doesn't feel right for us, and to then communicate it. We will create an atmosphere of safety and trust, in which "no", "maybe" and resistance are actively appreciated. In addition all of our impulses, exercises and games are offered to be adjusted to your particular limits and needs. Self-responsibility is required. The retreat is not a therapeutic event and is no replacement for therapy.
I am curious about Shibari Rope Play but worry that it will be too much for me.
Shibari can be practiced in many different ways. Personally we put little emphasis on complicated technik or intensive bodily sensations and more on the relational aspect of it, as a tool to help us feel the connection to ourselves and to each other. Since we place such a strong emphasis on connecting to one's needs and not disassociating, the probability of being overwhelmed and of one's boundaries being crossed is significantly reduced. At the same time we encourage and expect self-responsibility.
In case you are curious to join but have worries or bad past experiences that hold you back from signing up – feel free to contact us and we would love to talk about it.
We are excited and curious to meet ourselves you and ourselves in the retreat.
Theresa and Tom