Inviting strangers for silent eye gazing in public. Balancing distance and closeness – to the unknown other in front of me, to the unknown other within myself. Sensing the otherness and the sameness.
In the eye contact experiment, we hold signs in the street inviting people passing by to have a session of silent eye contact with us. The beginning can be slow, as few people are willing to be the first to participate. Will someone come? Should I maybe stand up and leave?
However, as soon as a few come to participate, others feel more comfortable and sometimes even a waiting line and a large audience builds up around us. The physically simple act of having eye contact can be very intense and emotional. Compassion, sorrow, boredom, embarrassment, guilt and other feelings surface and submerge. The short and non-vocal meetings are living examples of the simple and powerful beauty of authenticity and intimacy.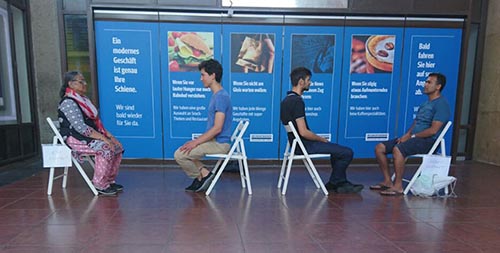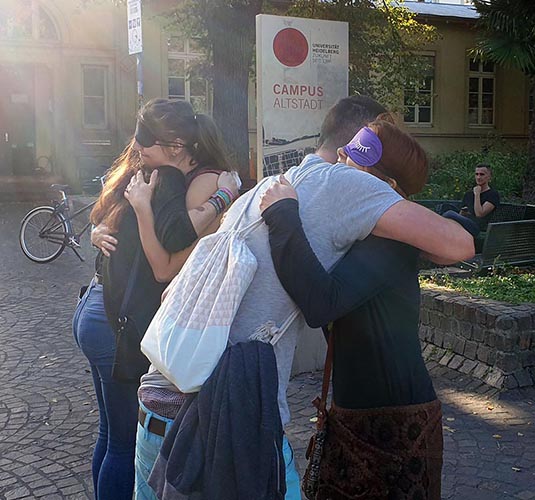 Free hugs are performed in the streets with signs inviting people passing by to interact, just like in the eye contact experiment. Because of the physical contact, they are a powerful practice to perceive and respect my and others' boundaries and be curious about the quality of the contact.
A more intensive variant is the blind free hugs experiment, where the performers are holding out their hands wide open while wearing blindfolds. It is a very intensive feeling for me, and shows me how I balance trust and self-care. Standing in the street, hearing all the people moving around, not knowing how many of them are looking or maybe already approaching me, and then to feel the embrace of a stranger. There are many surprises – the softness, the emotional quality, the time length, the height of the person, all of these keep changing, with the people usually arriving in groups, probably because each is shy to be the first.
To integrate this experience, we end with a sharing circle with other participants.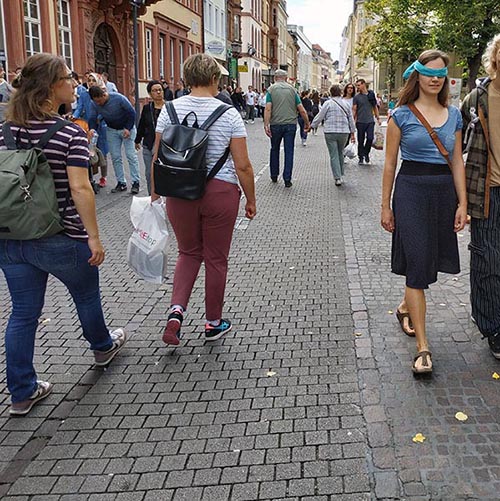 Walking around the city blindfolded, guided by someone I trust, can be a really fascinating experience, and may also scare me: The balance between the different senses shifts, automatized movements and tasks now need attention and are full of surprises. As I receive less visual information about others, my intuition becomes stronger.
To integrate this experience, we end with a sharing circle with other participants.
Subscribe to our Newsletter