The Intimate Imaginarium – A Gathering of Experienced Sensual Explorers near Berlin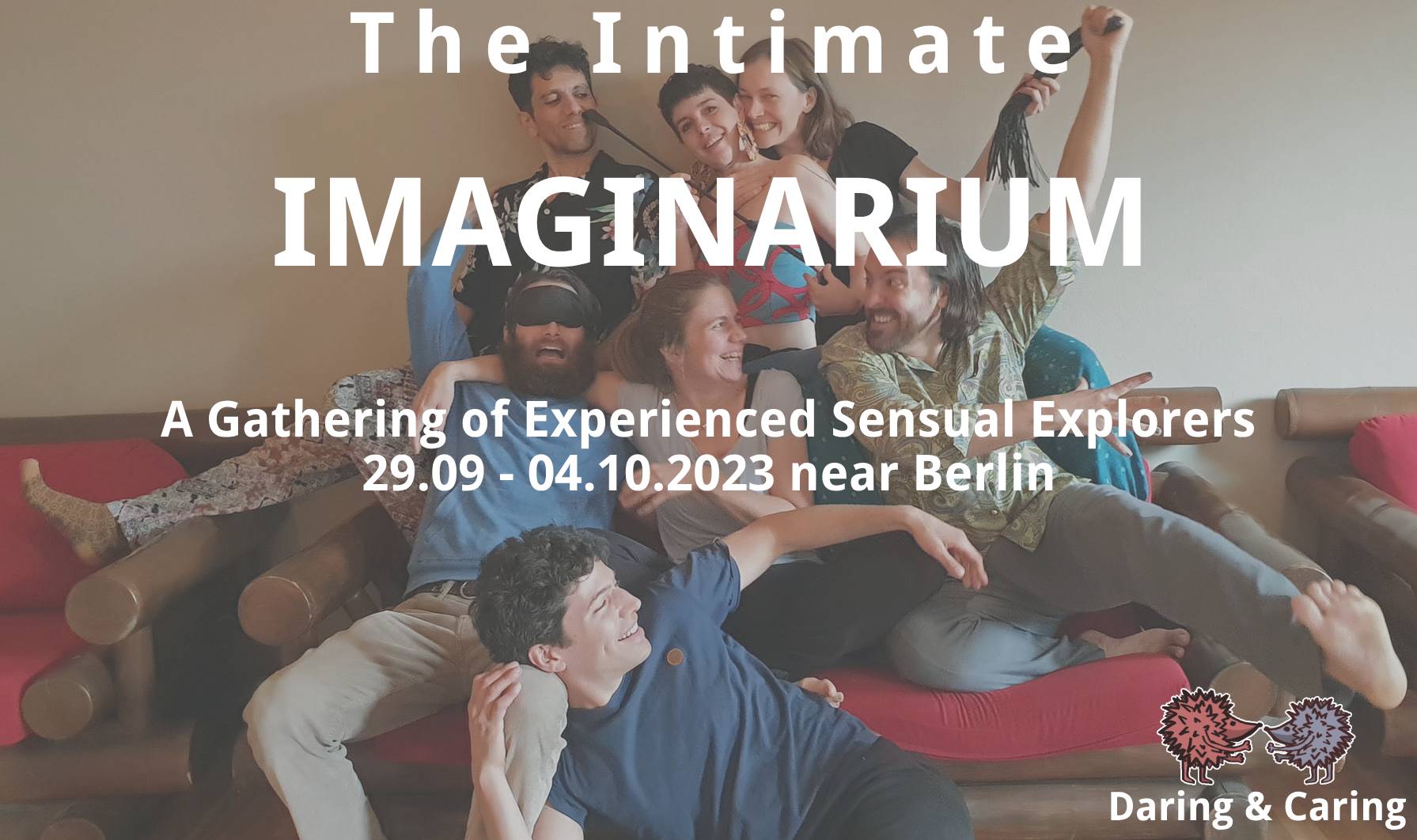 We invite you to gather in an intimate and diverse group of up to 30 experienced sensual explorers for six days, in a spacious house in nature near Berlin, with a large wooden-floored playroom, a sauna, a private garden and recreational rooms, all exclusively reserved just for us. We invite you to our third Intimate Imaginarium.
Together we will explore…


● Consent and Boundaries
● Authentic Relating
● Playfighting
● Sensual Improvisation Theatre
● Blindfolded Sensuality
● Dominance and Surrender
● Creative Aggression
● Sensation Play
● Relational Rope Bondage
● Somatic Fantasy Fulfillment
● Co-Creation
In six days we have time to build a powerful group container to…


● Perceive, touch and respect our own and other peoples' boundaries
● Nurture our somatic and non verbal awareness
● Expand our self-determination and our connectedness
● Live out our own rhythm of perceiving and acting, opening and closing, leading and following
● Release old uncertainties and welcome new ones
● Discover our sensual fantasies and take responsibility for their fulfilment
● Experience euphoric success and miserable failure
Schedule


● Each full day contains three vegan meals, two workshops, sauna and a sensuality-positive free-flow play evening with a guided introduction
● There will be plenty of space and time for rest and integration both indoors and in the nature surrounding the venue
● There will also be opportunities for offerings from participants
When?


● Arrival: September 29th in the evening
● Departure: October 4th at noon
Where?


● In a spacious house in nature with a large wooden-floored playroom, a sauna, a private garden, recreational rooms and sleeping rooms ranging from single to 5-beds, all exclusively reserved just for us
● It is about 90-minutes drive northwards from Berlin and is reachable with public transportation. A shuttle is used to travel the last 10km. We will help you pre-arrange shared shuttles with other participants (this worked very well in our last retreat)
● You will receive the address after successful registration
Meals


● We will prepare our own delicious vegan food three times a day as a group. We will provide you with the groceries, group arrangements and easy recipes
● Cooking together does not only lower the ticket prices but also helps connect us as a group and has worked very well in our previous retreats
This gathering is probably for you if you…


● Are curious about new ways to explore and unfold your sensuality, sexuality, social skills, inner child and behavioural patterns
● Are principally open to personally and non-verbally interact and play with strangers including same-gender (while staying in tune with your boundaries)
● Can take responsibility for your own inner state, for expressing your boundaries and are willing to try and resolve arising conflicts between you and others
● are motivated to bring your own creative impulses and co-create the space instead of being a passive "consumer"
Testimonials


● Read what participants of our previous retreats have to say about us
here
● For example (in German, you can read it in English on our website)
"…Euch dabei zu erleben, wie Ihr mit vollem Herzen und Eurer gesamten liebevollen Aufmerksamkeit den wichtigen Themen des Lebens begegnet ist (für mich als Therapeut) erneut inspirierend und beruhigend. Ihr schafft es durch mutiges und genaues Hinschauen, sich den Dingen die Schwer erscheinen spielerisch und leicht zu begegnen.
Durch Eure Erfahrung und Kompetenz auf den Gebieten von Nähe/Distanz/Verbindung/Austausch/Consent/innerer & äußerer Bühne/Dominanz und Hingabe gebt Ihr allen von Anfang an ein beeindruckendes Handwerkszeug in die Hände, mit dem alle sofort in der Lage waren sich direkt in einem sicheren Umfeld auszuprobieren.
So konnte sich jeder mit Respekt und Achtsamkeit für sich selbst und die eigenen Grenzen auf genau das einlassen, was jeweils stimmig war."
Matthias (The Intimate Imaginarium Retreat, Berlin 04.2022)
About the Organizers


● Dr. Theresa works as a medical doctor and psychotherapist. She is inspired by intersubjectivity, embodiment, opposites and their connection. She loves playfulness and relaxing into the unknown, for instance in contact improvisation dance, yin yoga, shibari rope play, play fight and authentic relating
● Dr. Tom's research topic started shifting from nuclear interactions to human interactions in 2015 after attending an intimate event by chance. He appreciates the intense aliveness and psychological nakedness available in somatic spaces and enjoys attending and facilitating them with a hint of self-humor and deconstructivity. Some of his favourite thematics are theatre, authentic relating and kink
● Together we are "Daring & Caring". Since 2019, we have been facilitating sensuality-positive events and retreats, in which we nurture exploration of the self, of the other and of the relational space in-between while questioning taboos around sensuality. In 2022 we started a new adventure of being a family
Ticket Prices


● Workshop price: The price for the materials, the organisation and the facilitation is between 300-500 euros (you choose how much according to your financial situation).
● Accommodation price: The price for the accommodation depends on your desired room:
– one bed in a room for four or five: 200 Euro
– one bed in a room for three: 260 Euro
– one bed in a double room: 350 Euro
– single room: 500 Euro
● Included in the ticket price: All workshops and play evenings, vegan groceries and snacks, five nights in a private house with usage of the play room, sauna, private garden and recreational rooms, use of the equipment and the organisation.
Application process


2. Make sure you have prior experience in at least one consent-aware sensual or sexual event (please ask us in case of questions)
3. It is important for us to have a diverse and experienced group and to understand whether your and our wishes for the event are compatible. For that reason we ask our applicants to
fill a form

(click here to fill the form)
.
4. After we have reviewed and accepted your application, we will send you the address and all other relevant information
By the way
● No technical skills, such as in bondage or kink are required to apply
● You can apply on your own, with partners or with friends (applying together does not affect with whom or how often you will be paired up together for games)
● the 3th of October is a holiday in Germany, so only two vacation days are needed even though the gathering lasts six days.
Cancellation
● In the unlikely case that we cancel the event, we will fully refund your ticket.
● You may cancel your participation up to two weeks in advance (until the 15th of September at 23:59 German time). You will then receive a full reimbursement except for 25 euros. Starting from the 16th of September, cancellation is no longer possible for any reason. However, it is still possible to find a new participant to replace you. If we accept the new participant's application, we will reimburse your ticket in full except for 25 euros.
Questions?
● contact us at info@daringcaring.com